How We Helped Get Healthy Again End 5 Consecutive Financial Quarters of Wasting Over Half of Their 6 Figure Per Month Advertising Budget
Robert Harrison's company sources & sells a high volume of products worldwide in the alternative medicine industry. His product line is always under strict scrutiny by the FDA. Yet his company continuously exceeds the FDA's standards.
A few years ago, Google cracked down on everyone in Robert's entire industry who was using Google AdWords. The good companies with rigorously tested, top quality products were wiped out along with all the cheap knockoffs.
The same thing happened with Facebook Ads.
Then Robert suffered at the mercy of Bing Ads when he finally had enough and reached out to our agency.
Guess what we found in Robert's Bing Ads account... and how did we stop his company from bleeding money?
Diagnosis
There was no conversion tracking.
Purchases were not being tracked from any source including Bing Ads, which was spending $100,000+ per month!
When money is going in and sales are coming out, but you don't what's driving the sales, you might be reluctant to change anything.
It's like advertising in the old days when you couldn't really track anything properly. You knew that if you increased your budget, sales sometimes went up. And if you decreased it, sales went down; but you didn't know at a more detailed level what was working & what wasn't.
The Solution
We set up conversion tracking in Bing Ads to track purchases and return on ad spend. We also set up Enhanced Ecommerce tracking in Google Analytics.
Now we could tell which ads, keywords, ad groups, and campaigns were actually generating sales and what was just costing Robert a lot of money!
Then we noticed a pattern.
Hardly any sales came from mobile devices, yet half of Robert's ad spend was on mobile. The deeper problem was that Robert's website wasn't mobile friendly.
However, until that was fixed, we simply reduced the mobile bids down to a fraction of what they were before. Within a couple of months, Robert's ad spend was down $40,000 per month yet his sales remained stable!
With further split testing of different ads in Bing Ads, we were able to see which ads drove a lot more sales. We cut ad spend on the poor performing ads after we had a few weeks of data.
That led to a total savings of $60,000 per month in ad spend & sales continued to go up!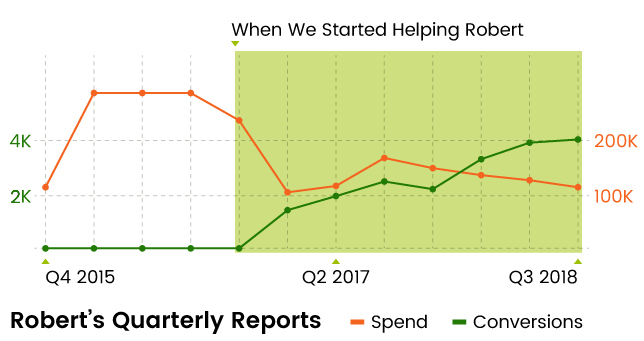 Are you spending a lot of money on advertising and suspect you might be wasting a large percentage? Let's have a conversation.
Choose your preferred method of communication below. . .